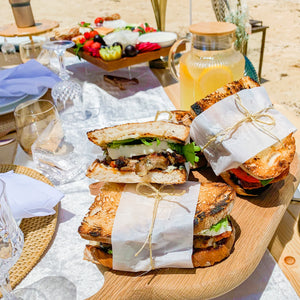 Quantico, VA
Grando Sandos
Regular price
$15.00
$0.00
Unit price
per
We are big fans of a picnic, and when you add on some sandwiches to your charcuterie, you have a complete meal!  Now put it all in a basket and go have fun!

Our sandwiches are XL in size-we like to call them Grando Sandos since "sando" is the cute nickname given to sandwiches in Japan, where we most recently lived!  

Each sandwich will come cut into two halves, both wrapped in a band of parchment paper and tied with twine.  
The Nanjo:  grilled chicken, blackberry jam, brie, greens
The Nago:  grilled pesto chicken, fresh mozzarella, pesto aioli, sun dried tomato bruschetta, greens (sub grilled eggplant for VEG)
The Araha:  roasted assorted veggies, balsamic glaze, honey herbed ricotta spread (VEG)
The Yomitan:  bacon, greens, tomato, fresh mozzarella, pesto aioli
The Okinawa City:  sliced brie, apple, greens, bacon, caramelized onions, dijon
The Ishigaki:  thinly sliced marinated steak, bleu cheese aioli, grapes, crispy onions, greens

The Naha:  chicken salad-roasted chicken, grapes, candied walnuts, red onion, dried cranberries tossed in Greek yogurt & olive oil mayo

The Chatan:  turkey, cheddar, beet mayo, greens, avocado, red onion, pepperoncini

The Motobu:  prosciutto, garlic aioli, greens, brie, sliced seasonal fruit (seasonal)
The Kouri:  sliced ham, goat cheese, apricot jam, greens
The Onna:  hummus, avocado, pickled red onion, cucumber, tomato, artichoke hearts, greens (V)
The Kin:  honey lemongrass pork, fresh basil & mint, cucumber, carrots, bean sprouts, sriracha aioli 
The Keramas:  honey soy grilled chicken, pickled red onion & cucumber, carrots, greens, sriracha aioli
The Itoman:  honey garlic chipotle grilled chicken, bacon, tomato, avocado, chipotle aioli, greens
The Ginowan:  chimichurri steak, chicken, or veggies with cranberry aioli, feta, greens
(VEG)=vegetarian
(V)=vegan
PICKUP/DELIVERY INFORMATION:
We deliver within a 15 mile driving radius of our kitchen in Quantico, VA.  We also offer free pickup in Quantico (you must have base access for this option).
Delivery is $5 for on base in Quantico, and $20 within a 15 mile radius off base from Quantico.  In order to receive the $5 flat fee for delivery on Quantico, you must enter discount code ONBASE at checkout.  This code will only be honored for orders with a delivery zip code of 22134.  All other delivery orders will be charged at the regular $20 delivery rate.    If you would like to request delivery outside of our normal zone, please shoot us a message at cruditesallday@gmail.com to arrange!

Pickup availability is as follows:
9 am-3 pm Mon-Fri.   9 am-12 pm Sat/Sun. (Contact us first to make arrangements if these windows do not work for you!)

Delivery is currently available Mon-Fri 9 am-3 pm, along with weekend mornings.  Please contact us if you are looking for a special order outside of these windows and we will do our best to accommodate your request.  
After making your board selection, click on the cart page to select store pickup or local delivery, as well as your desired date and time.  Please note that when selecting a time for delivery, we will do our best to deliver at the exact time, but please allow for a 1 hr delivery window beginning 30 mins before your selected time up to 30 mins after this time.
We build our boards on eco-friendly palm leaf trays or wood sheets.  While these are yours to keep, we recommend for them to be single-use.  
---